We would like to wish our Far East agents and exporters a happy prosperous new year as 2013 welcomes the year of the Black Snake. We hope you enjoy your celebrations!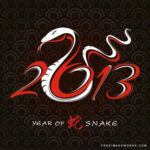 Chinese New Year also known as the Spring Festival is a significant annual celebration marking the start of the New Year according to the Chinese lunisolar calendar, and always falls in the months of January or February. Each Chinese new year is represented by 1 of the 12 creatures of the Chinese Zodiac – 2013 is the year of the Black Snake.
Importers please note most of China and Vietnam will be closed from 9 February 2013 most business resumes on 18 February 2013.