It has been almost three years since work began at the 1,500-acre site on the north bank of the River Thames which will become London Gateway.
Work began by dredging and reclaiming land from the Thames Estuary to allow the world's largest container ships to bring consumer goods closer to the point of consumption than existing major national deep water ports.
London Gateway will be the UK's first 21st Century major deep-sea container port and Europe's largest logistics park. With over 9 million square feet of logistics space for the distribution, manufacturing and high-tech sectors. The port's location, with its superior operational systems and service, will ensure ships load and unload as fast as possible.
It is said to be a world class asset for the UK, and will employ 35,000 staff in and around the Port.
Building and development is currently all on schedule for official opening in Q4 2013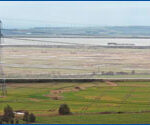 Panorama view before work began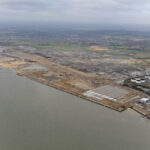 Ariel Photo December 2012
For further information regarding London Gateway please visit www.londongateway.com