What do you do when your freight forwarder lets you down?
Contact Unipac Shipping!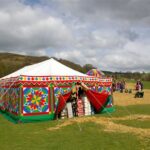 We recently took an emergency call in the office; a wedding marquee company had been let down disastrously at the last crucial minute. They had used another forwarder to ship their wedding marquee in from India to the UK. With just a few days to go until the big event they were told the marquee couldn't be delivered in time!
One call to Unipac and our team jumped to the rescue. With much relief to all involved the marquee was delivered two days before the special day!
We wish the bride and groom every happiness!
Click here to see the comments from Melanie & Andy from the marquee company!