A new generation of vessel so large – almost a quarter-mile long, wider than a motorway and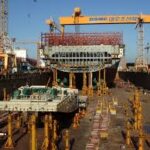 taller than a 20-storey office block, will be coming into service this summer. The vessel named as The new Triple E will be able to carry 18,000 20ft containers, three times as many as the biggest container ships 15 years ago
The Triple E – which stands for economy of scale, energy efficiency and environmentally improved will be able to move goods more cheaply and efficiently than current ships. But, they will be far too big for most of the world's ports which are having to undergo radical surgery in order to accommodate them.
Ports all across the globe, are preparing for the Triple-E. No port in North or South America is currently able to take the vessels, nor the Panama Canal locks which were designed for the last generation of container ships.The Triple E will just about squeeze through the Suez canal, and will initially serve the China to Europe route, Only a handful of European ports, including Felixstowe and Southampton in the UK, are equipped to handle this size vessel, Those that cannot are investing hundreds of millions to make sure they can by introducing taller cranes and by building new berths.
The new London Gateway Port opening later on this year, has just installed the first of 24 138-metre high cranes designed specifically to reach up and across the Triple Es' vast deck of containers.
For more information regarding London Gateway click here
Read about the naming ceremony for the First Triple E click here