A China Railway Express train loaded with Volvo Cars' XC 60 SUVs arrived in Ghent, Belgium, on July 4th after 18 days travelling 9,783 Km from Xi'an.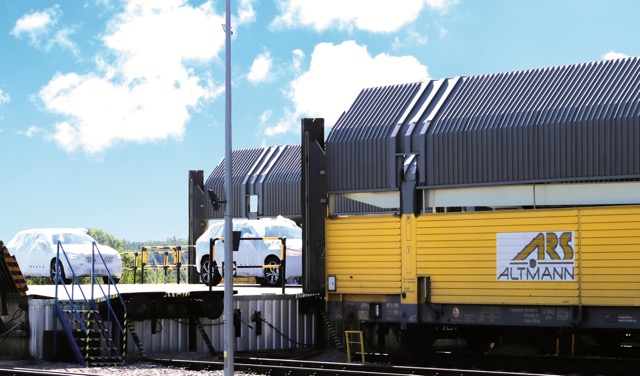 The volume is forecast at 40,000 units a year based on several weekly rail services. Delivery is based on an integrated hybrid concept developed by automotive logistics company ARS Altmann and Intermodal Container Logistics Vienna (ICL).
ARS Altmann and ICL will operate covered, double-deck car transport wagons between Belgium and Poland and 40-foot containers between Poland and China.
The 18 day service routes via Kazakhstan, Russia, Belarus and Poland.
"Customers benefit from the advantages of rail transport with more reliable and shorter throughput times and far greater sustainability and climate compatibility compared to sea freight with both solutions… In recent years, the Chinese automobile market has gained enormous importance for European OEMs. At the same time, the export volumes of vehicles produced in China by international manufacturers and the exports of electric vehicles by up-and-coming Chinese manufacturers are on the rise."

commented Frank Lehner, ARS Altmann director of Internationalisation.
"Railway transport is faster, more cost-efficient and more environmentally sustainable… Meanwhile, the railway is also less influenced by weather and traffic conditions, and could guarantee our product is perfectly delivered to consumers."

said David Pansinger, head of supply chain management of Volvo Cars Asia Pacific.
In the first half of 2019, the proportion of exports by Volvo via railway reached 26.4 per cent of total exports.
1. Volvo begins China exports by rail to Europe. https://www.freightweek.org/index.php/en/latest-news/85-rail/4260-volvo-begins-china-exports-by-rail-to-europe?ct=t%28FREIGHTWEEK+JULY+07%2C+2019_COPY_01%29&mc_cid=43588ca323&mc_eid=%5BUNIQID%5D . Accessed July 8, 2019.
2. Li Fusheng. Volvo's China-made SUVs exported to European market. http://www.chinadaily.com.cn/a/201907/08/WS5d22d625a3105895c2e7c40f.html . Published 2019. Accessed July 8, 2019.