The fire is continuing on the containership Maersk Honam three weeks after it began.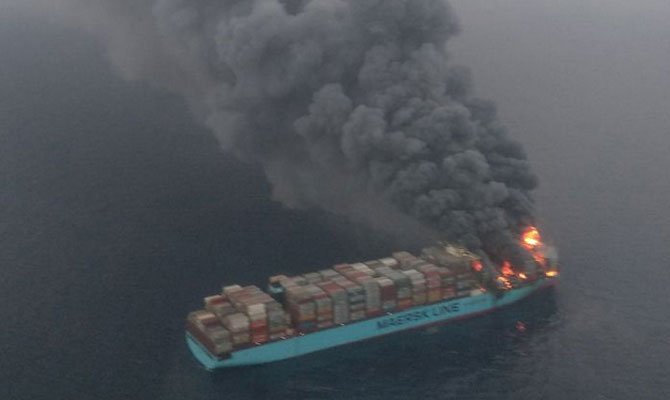 The ship that carries 15,262 teus reported a serious fire in a cargo hold on 6th March en route from Singapore towards Suez, around 900 nautical miles southeast of Salalah, Oman. A total of 22 crew members were safely evacuated to the nearby vessel ALS Ceres, but 5 crew members are thought to have died as a result of the fire.
The fire fighting is progressing with salvage work led by Smit Salvage and Ardent – two best class companies with maritime salvage operations.
The focus is to bring Maersk Honam alongside in a suitable port and discharge the cargo. The most likely port of refuge will be Jebel Ali, Dubai but it may be weeks before the ship can berth and months before some customers get their cargo back.
Maersk has declared "general average" for the Maersk Honam. The British International Freight Association (BIFA) said the insurance industry is bracing itself for hundred of millions of dollars of claims.
The $122 million ship was carrying 7860 containers. On the evidence of images from the Indian coastguard, hundreds of containers in the fore section of the vessel seem to be a total loss, but boxes stowed behind the superstructure and in the aft section appeared intact.
Maersk confirmed that hazardous freight was on board and stowed in accordance with International Maritime Dangerous Goods code requirements. There is no evidence at this stage that it caused the fire, however the Danish line has changed future stowage plans as a precaution. They are to stop stowing dangerous cargo close to a ship's accommodation block and engine casing until it has been established what caused this devastating fire.
Meanwhile, Maersk said the cause of a fire on The Maersk Kensington, was also currently unknown. The vessel reported a container on fire in a cargo hold on 15th March while en route from Salalah, Oman towards Suez. It said all 26 crew members are safe and the fire is reported to be contained.