The Hanjin Geneva which was 24 nautical miles off the coast Japan, was carrying not just container cargos but also a 20-man crew including Rebeca Moss, a British artist. Rebecca, a 25-year-old Royal College of Art MA student was travelling on the vessel as part of a three-week-programme, called "23 Days at Sea" organised by the Vancouver-based Access Gallery. For this programme four artists were selected to take part in an artist residency programme which focuses on the creation of provocative new ideas and work.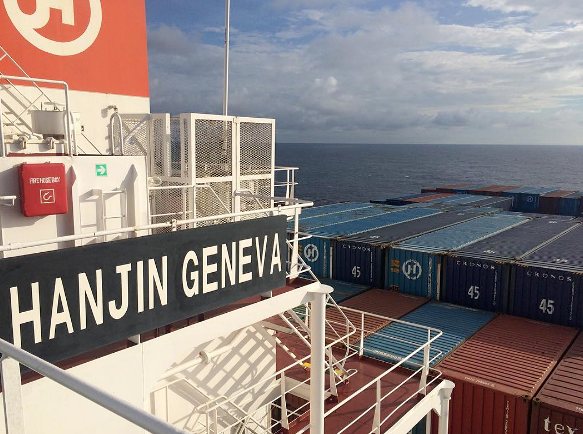 The vessel was meant to arrive on Thursday, 15th September in Tokyo. However because of Hanjin`s bankruptcy they remained floating in the middle of the Pacific Ocean, as ports are refusing to allow Hanjin boats to dock or unload for fear of not getting paid. Ms. Moss said that she and the others aboard the Geneva—a German captain and chief engineer, a Polish chief mate, members of the mostly Philippine crew and two American passengers—had little idea when they would be able to come ashore.
For Moss finding herself trapped in this strange maritime limbo was frustrating but also an artistic opportunity.  According to The Wall Street Journal she was documenting the journey, including the "mounting desperation and frustration from everybody about their predicament."
After two weeks of uncertain travelling they finally disembarked off the coast in Tokyo on Saturday 17th September. Moss' time on the ship ended up lasting 25 days rather than 23 and now she is travelling back to London from Tokyo by air rather than sea.
Around the world, tons of other Hanjin ships and the people they're carrying remain stranded at sea. However the situation created by Hanjin's bankruptcy have begun to unwind as bankruptcy proceedings move forward and the company's ships have been cleared to enter some ports and unload goods. But a number of legal issues have yet to be resolved, and cargo owners continue to express concerns about a lack of clarity regarding cargo still stranded on dozens of ships.